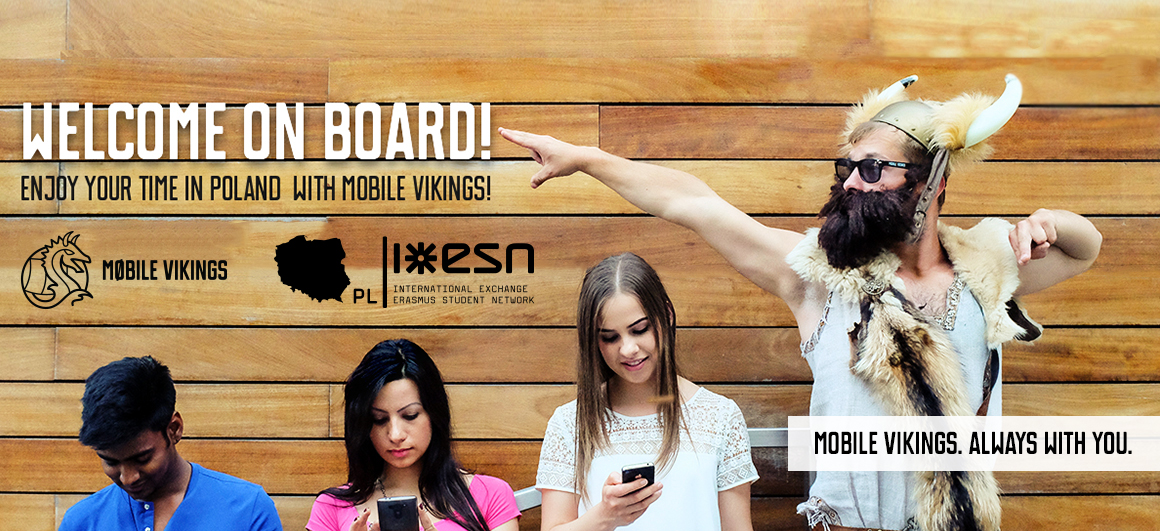 How to register your Mobile Vikings SIM card if you are an Erasmus student
Wrzesień 14, 2016
Are you an Erasmus student ready to start your adventure in Poland? Please read the following information on how to start using your Mobile Vikings SIM card.
Due to the changes in the Polish law, as from the 25th of July 2016, each prepaid SIM card user has to register his or her SIM. No matter which mobile brand you choose, your SIM card has to be registered – immediately after receiving it. Your number will be activated only after fulfilling this responsibility.
So how to register your SIM card?
To begin with, SIM card registration means providing and verifying the exact personal details of the person using the number.  That is why to fulfill the process of registration, you have to present your ID card, passport or residence card and Mobile Vikings Welcome Letter along with the SIM card to a person representing the mobile provider.
How to register in two simple steps?
Go to your local ESN office (you will find the exact address in the Welcome Letter or you can ask about it on your special group on Facebook).

Take with you the Welcome Letter and ID card, passport or residence card and present it to a dedicated person in the office.
After registration you will receive an email with a password to your personal Viking account. By logging in you can check your balance and top-up your SIM card. Please remember to give us the right and most often used e-mail address during registration at ESN office, so we can effectively contact you to provide a password.
For a good start of your Erasmus adventure we give you 300MB and free calls to other Vikings for 14 days.
If you didn't receive your Mobile Vikings SIM card, please contact your Erasmus patron from ESN office. If you have any questions, don't hesitate to contact our helpdesk team via Facebook, Twitter, dedicated e-mail: esn@mobilevikings.pl or phone: +48 71 799 99 40.
Enjoy your time in Poland!
Wasze komentarze: